Home carer Barbara Garvey stole from elderly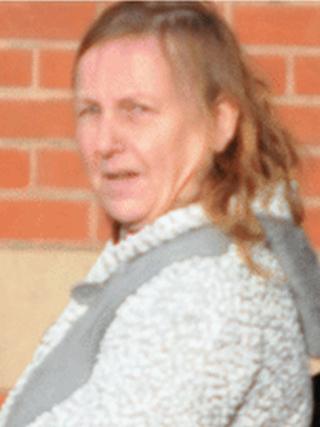 A woman supplied by a Kent firm to care for elderly people in their homes stole from several vulnerable and dying clients, a BBC investigation has found.
Barbara Garvey, 60, was suspended for five months when she was suspected of stealing a ring, but then reinstated.
A former detective who brought her to justice said Consultus Care and Nursing Limited should have stopped sending her to clients after concerns were raised.
Consultus said it reinstated her because they thought she was innocent.
BBC One's Inside Out programme said Tonbridge-based Consultus also knew Garvey was under investigation by the Benefits Agency.
The programme suggested serious concerns had been raised about the way the industry was regulated.
Garvey, who joined Consultus in 1995, was jailed for 15 months in June for three counts of theft.
Among her victims were the parents of Sarah Whitney, from Kent, who had jewellery stolen from their home.
'Devastating'
"It was completely devastating, my parents were gentle people... they trusted everybody else who they dealt with and I think they just couldn't believe that anybody would do this to them," she said.
She said she was "appalled" to find Garvey had sent texts while looking after her mother saying it was going to be a very productive stay.
Ex-detective John Smith, of Durham Police, said the suspicions surrounding Garvey, originally from Darlington, began with allegations of the theft of a ring from a family in Staffordshire.
"There was also an investigation ongoing, I think with the benefits agency, with regards to money that was in her account and the fact that a previous client, or person that she had looked after, had left her a substantial amount of money in a will," he said.
"These put together I think should have started the alarm bells sounding for the agency."
He said if Consultus had acted properly it would have prevented three more victims of theft a year later.
Consultus said it regretted hiring her and insisted client safety was paramount.
"We put our faith in this woman and with hindsight we can say we were as fooled as everybody else, but the reason we gave her more work was because we did not believe she had taken that ring," said care at home manager Celia Hoare.
Garvey was convicted in November 2010 of falsely claiming more than £14,000 in benefits.
'Open to abuse'
Consultus said it was not aware of the benefit fraud conviction, which only emerged a few months after her Criminal Records Bureau (CRB) check.
It also insisted it monitored its staff very carefully and that client safety was of "utmost importance".
The Care Quality Commission said of the 191 companies inspected in the South East in 2010, four failed to carry out CRB checks and failed to check references.
A further 250 firms had not been inspected at all.
Chris Wyatt, from the Alzheimer's Society in the South East, said she was worried many agencies had not been visited for an inspection by the regulator.
"It's hugely important because they are in their own home, they can potentially be really vulnerable and potentially they are open to abuse," he said.
"So, in order to reduce the incidents we really do need to have proper regulation of all care givers going into an individual's home."
Care Minister Norman Lamb said: "I don't think you can say because something happens that is unacceptable that the whole system is failed.
"There is a very clear system that holds providers to account; inevitably in all walks of life, sometimes things go wrong.
"It's how you then address these failings that's important and I'm determined people feel confident about the care they receive in their own homes."
Inside Out looks at how those who look after the elderly are vetted on BBC One at 19:30 BST on Monday