Whitstable road permits demand 'Pythonesque'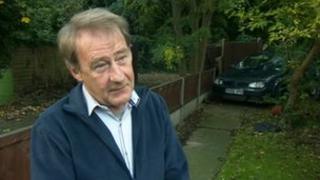 A council which planned to charge residents £138 for licences to use an existing access road has agreed to think again after protests.
Residents of Cromwell Road, Whitstable, Kent, were told they must pay £122 for vehicles and £16 for pedestrian access to a car park behind their homes.
"The idea of having to pay £16 to walk down here - that's Pythonesque," said resident Denis Tweedie.
Canterbury City Council said its intention was to regulate access.
The road leads to Bisson's car park, a facility for use by residents' permit-holders only.
'Monitor schoolchildren'
The council, which bought the land by compulsory purchase in 1995, sent out the demands for licences last week, and told the residents they should also take out public liability insurance of £2m.
"I thought it was outrageous," said Mr Tweedie.
"Schoolchildren come through here on a daily basis going to school and coming back from school. How are you going to monitor this situation? It is lunacy."
Another resident said she was "shocked and appalled" to receive the letter and rang the council to complain.
The council said in a statement: "We are sorry that the residents in Cromwell Road are unhappy.
"Concerns have been expressed about the proposal, so we are going to pause and take time to discuss the situation with the residents to allow us to find a way forward that meets the needs of all parties.
"We will be contacting the affected residents in the near future."