Bali bike crash man Richard Plummer to marry girlfriend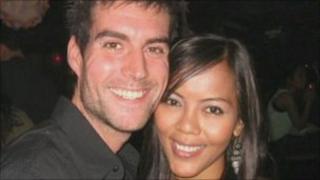 A Kent man left for dead by a roadside in Indonesia following a motorbike accident more than a year ago is to marry his girlfriend next week.
Richard Plummer, 33, had to be flown home from Bali in a coma in July 2011 after his parents borrowed £80,000 to pay for an air ambulance.
He regained consciousness a month later and has made "terrific progress" since then, his father Eric Plummer said.
He will marry his girlfriend Indri, 34, on 20 October in Coxheath, Kent.
The couple have a daughter, Tiana, who was born eight months ago and named after an Australian woman who found Mr Plummer following the accident.
Mr Plummer Sr said his son's forthcoming wedding was "truly amazing".
"I didn't think that we'd see him get married... we're overwhelmed."
Life savings
Mr Plummer, who lives in Maidstone, said his son was still not walking as well as he would like, but he had "made terrific progress in the last year" and was "improving all the time".
He added that his son's short-term memory was not very good, but his long-term memory was - although he cannot remember the accident.
Mr Plummer and his wife June spent their £20,000 life savings to pay for care for their son, who had not renewed his travel insurance.
A private benefactor, who wished to remain anonymous, agreed to lend the family £80,000 to cover the cost of the air ambulance, and fundraising events were held to help pay it back.
Richard Plummer had been living in Bali since 2009.