Thanet council legal fight over Ramsgate live exports ban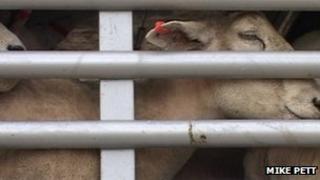 A council that enforced a temporary ban on live animal exports from the Port of Ramsgate has been served with legal proceedings challenging its decision.
Thanet District Council said it had received formal notification of an application for a judicial review.
The Kent council suspended live exports from the port after incidents in which 45 sheep died.
At the time, the local authority said the ban would be lifted after suitable facilities had been built.
Details of who had mounted the challenge were not released by the council.
The council issued a statement which said: "Thanet District Council has been served with legal proceedings which challenge its decision to suspend live animal movements from the Port of Ramsgate."
But the statement added: "The council has received the advice of a leading counsel that its actions in imposing a temporary live animal export ban at Ramsgate are lawful.
"It therefore intends to mount a vigorous defence of its actions."
'Call to reopen port'
The council said the challenge sought to overturn its decision to suspend temporarily the movement of live animals at the port.
The challenge also sought a mandatory order requiring the council to lift its ban; damages for breach of European law; and an interim order requiring the council to reopen the port for live exports pending determination of application for judicial review, the council said.
The temporary ban was enforced last month after two incidents at the Port of Ramsgate.
A lorry was stopped at the port and 43 sheep taken off the vehicle were put down after being examined by vets.
In an unconnected accident on the same day a loading area floor collapsed while the sheep were being taken off the lorry and two more died.