Image of dead man found on Kent railway line released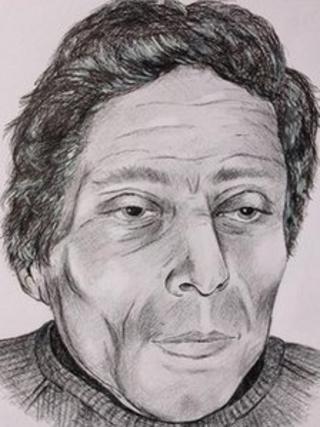 An artist's impression of a man who was found dead on a railway line in Kent has been released by police in an attempt to identify him.
He was found on tracks under a road bridge near Postern Lane in Tonbridge on 29 September. British Transport Police said he had been hit by a train.
The man was aged between 50 and 60, slim, and about 5ft 7in (1.62m) tall.
Police released the image as he had no identification and his fingerprints were not on their database.
Det Insp Ashley Cooper said: "It's very unusual that we would release an e-fit image of someone in these circumstances but it's very important that we contact his family and those close to him to let them know what has happened.
"This man may be someone's son, brother or father or friend.
"If you know someone matching the description we are keen to hear from you so we can identify him and inform his family as soon as possible."
The man had thick, dark brown hair, which was greying at the sides.
He was wearing black Wrangler jeans, a black Wrangler t-shirt and a grey-green round neck heavy knitted jumper made by Kilspindie of Scotland.
On his feet he wore black Reebok Classic trainers and had green socks.