'Disneyland rival' plan for Kent Paramount Pictures theme park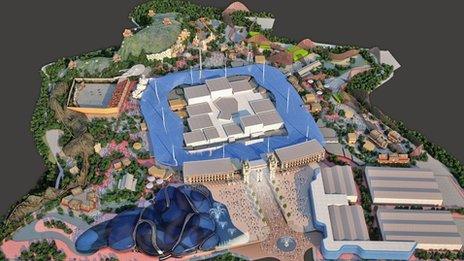 A £2bn entertainment resort which would aim to rival Disneyland Paris could be built in north Kent.
Developers have been granted a licence from Paramount Pictures to use its name on a resort on the Swanscombe Peninsula, near Dartford.
The scheme has been offered "support" by Dartford and Gravesham borough councils.
The site's developer, London Resort Company Holdings, is now looking for further investment for the project.
It estimates the park, which would be based on a former cement works, would create up to 27,000 jobs.
The 900-acre brownfield site is next to Ebbsfleet International station, which is 17 minutes from London and two hours from Paris.
Tony Sefton, project leader, said the company hoped to open the site in 2018.
He said: "Over the next 12 to 18 months we will be progressing the planning application, while embarking on a wide-reaching programme of community consultation, while securing further commercial agreements with third parties."
In a joint statement, Jeremy Kite, leader of Dartford Borough Council, and John Burden, leader of Gravesham Borough Council, described the development as a "tremendous economic growth opportunity" for the region.
"We are very keen that local people get the jobs and local suppliers are involved in the process," said Mr Burden.
"We have even looked at the farmers - how can they feed into the process? It is very similar to the Olympics."
The developers said plans also included Europe's "largest" indoor water park, theatres, live music venues and hotels.
Campaign group Demand Regeneration in North Kent said it was as though everyone in north Kent had just won the lottery.
"So long as the plans are fully tailored to the needs of the local community, we could look to the elimination of the pockets of severe deprivation which currently exist throughout north Kent.
"There should also be spare cash to improve transport services, homes and the environment for everyone."
Related Internet Links
The BBC is not responsible for the content of external sites.