K College facing budget deficit of £11m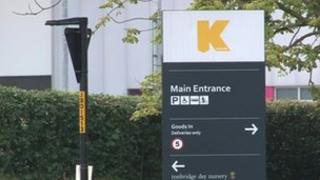 A college in Kent facing a half-day strike over plans to cut up to 145 jobs is facing a budget deficit of £11m.
K College, which has six campuses and more than 25,000 students, was formed after a merger between West Kent and South Kent Colleges two years ago.
It blames the cause of its deficit on cuts from central government, the cost of the merger and on a delay in money owed from the sale of land.
Chair of governors Laura Ellis said a recovery plan was now in place.
She said the proposal would be taken to the governing board on Monday "which will look at bringing us back to a position of stability and of being back in the black in two years' time".
Members of the University and College Union (UCU) and the National Union of Teachers (NUT) are planning to walk out of K College on the same day and protest at the Tonbridge campus, outside the governors meeting where the job cuts will also be discussed.
The college has been holding a consultation on the proposed cuts to 110 full-time and a number of part-time posts.
'Tough recovery plan'
The staff affected include lecturers, management and support workers.
UCU spokesman Adam Lincoln has described the proposals as "ill-conceived and unjustified".
K College said its underlying deficit was £11m, but with "exceptional costs" from last year it was £16m, which included one-off costs in the provisional development of the new Ashford campus and the new Technology Centre in Tonbridge.
Both projects have been postponed and the college said its campus in Folkestone was also likely to be sold as it had been running at a substantial loss for some time.
Ms Ellis conceded the recovery plan would be tough and the strike was due to "having to take some very difficult decisions on staffing".
"Our staff are a huge asset, they're our biggest asset... but we have to look very carefully at the workforce," she said.
"We're currently running class sizes which are way, way below the national benchmark and this cannot go on."
She added: "It's a very, very difficult climate for all colleges at the moment."
K College said it would be open to students as normal during Monday's half-day strike, which is due to start at 13:00 BST.
It said the majority of classes would run as it was "a minority of staff" who were planning to take part in the industrial action.