New Kent gritters part of council's winter plan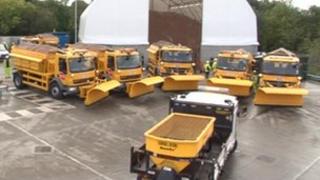 A new fleet of 60 gritters has been unveiled as part of Kent County Council's £3.2m winter weather preparations.
The council said it had stockpiled 23,000 tonnes of salt for the winter.
It aims to keep half of the major routes open during severe winter weather.
Spencer Palmer, from Kent County Council Highways, said: "We might not be able to clear and treat every single road."
He added: "It's just not possible with the resources we have and just not possible for us to clear the major routes if we go and focus on those minor routes first."
When icy conditions are forecast 2,268 miles of road around Kent will be gritted, according to the council.
Conservative councillor Bryan Sweetland said: "We'll keep about a half of the major routes open, bus routes, all important things like that.
"We will make sure people can get to school, they can get to work, get to the hospital, get to the doctors, get to the shops."