Maidstone empty home owners 'could be forced to sell'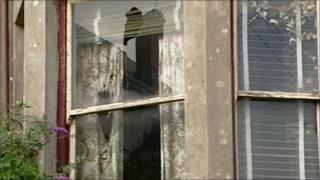 Owners of empty homes in a Kent town could be forced to sell their properties as part of a council scheme to ease a housing shortage in the area.
Maidstone Borough Council said there were more than 1,500 empty homes in the town, and 3,500 people on the housing waiting list.
The package of measures includes offering grants and loans to property owners to carry out repairs.
The council said compulsory purchase orders may be issued as a last resort.
John Littlemore, head of housing at Maidstone Borough Council said: "What we are proposing is a range of options.
"What we try to do is work with owners to bring the properties back into use."
'Witch hunt' concern
He said the council had brought back an average of 60 empty homes per year over the last few years and wanted to continue at the same rate.
The figure of 1,500 empty homes included those that were temporarily between lettings, Mr Littlemore said.
Fran Wilson, the Liberal Democrat's main opposition leader on the council, said: "It's very important that we don't make this a witch hunt.
"There are stories behind all these empty homes and we don't want to penalise those who have genuine very sad stories behind the reasons why the homes are empty.
"There are those that are empty for no good reason and I believe ultimately we have to take a draconian approach."
The proposals also include offering advice to property owners on attracting tenants as well as working with housing associations and private landlords.
David Ireland, the chief executive of the Empty Homes Agency, said: "Owners of empty properties have been affected the recession and are having difficulty getting loans and difficulty financing getting these properties back into use.
"It's really important that we help those people."