Darling Buds of May farm in Kent for sale for £1.35m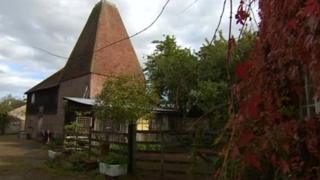 The farm in Kent where the Darling Buds of May TV series was filmed has been put on the market for £1.35m.
Roger Holmes, who has lived at the home in Bethersden for 40 years, says he has to sell for financial reasons.
Grade II listed Buss Farm, complete with 20 acres of land, a square kiln oast and Tudor barn, is being sold by estate agent Madeleine Rose.
It was a regular film set from 1990-93 for the show set in the 1950s starring David Jason and Catherine Zeta-Jones.
Estate agent Ms Rose said: "It evokes all sorts of memories for people, and to actually put that into something they could live in and make a home for a family, extended family or even to develop generally, sort of brings a special something that not every property has."
The TV series dramatised the adventures of the large, boisterous Larkin family.
The property's marketing states there is a more formal, private garden at the back of the farmhouse "where the Larkins were filmed enjoying their family meals".
Mr Holmes, whose parents also lived at the farm, said: "We've been here so many years and you've got to walk away, but that's life."
He recalls David Jason asking him about the car he was restoring at the time and "other distractions like Catherine Zeta-Jones walking up and down the drive".
The farm and surrounding area around Pluckley has been a pilgrimage for die-hard fans of the hit ITV series based on the novels by H E Bates.
It starred David Jason as "Pop" Larkin, Pam Ferris as "Ma" Larkin and Catherine Zeta Jones as their daughter Mariette.