Kent couple in regular 236-mile round trip to see baby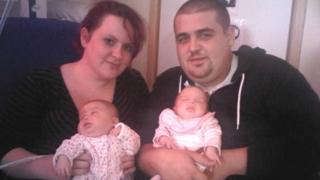 A couple from Kent are driving a 236-mile round trip at least twice a week to visit one of their twin baby daughters at a Southampton hospital.
Jamie Willicott and Paul Larcombe's daughter Layla has a condition which requires specialist care and surgery.
The closest hospital to their home in Ashford which can provide the treatment is King's College Hospital in London.
King's, about 50 miles from Ashford, said it was making every effort to ensure Layla was transferred.
Layla and her identical twin Lauren were born nine weeks premature 11 weeks ago.
Ms Willicott was due to give birth at the William Harvey Hospital at Ashford but there were no beds available for premature births.
The nearest hospital with the facilities was Portsmouth.
Emergency surgery
After their birth, Layla was found to have necrotizing enterocolitis, a condition which causes parts of the bowel tissue to die.
"She had blood pouring out of her mouth, out of her nose," said Ms Willicott.
"They took her to Southampton and did emergency surgery."
Her parents have been making the 236-mile round trip between Ashford and Southampton at least twice a week for the past month.
Ms Willicott said: "It takes a lot out of our money, especially with Paul not working full-time, like he used to and I'm only getting maternity pay.
"We haven't been able to pay our rent so Paul's dad been helping us do that."
They are unable to stay in Southampton as they have a five-year-old daughter Kacey who is at school in Ashford.
'Best possible care'
Ms Willicott said Layla was unlikely to come out of hospital until she was 11 months old and that it "would be so much easier" to see her in London.
At the end of a recent visit, Mr Larcombe said: "We've only been here three and a half hours and that's how long it took to get here so it's a bit sad leaving her."
In a statement King's College Hospital said: "At King's, we have systems in place to ensure the swift transfer of those patients in need of care and treatment, and priority is given to those in need of the most urgent care.
"We are making every effort to ensure that Layla is transferred to King's as soon as possible.
"In the meantime, we are confident she is receiving the best possible care in Southampton."
Helen Kirrane, from the charity Bliss said: "The welfare of the family must be taken in to consideration at this already difficult and challenging time.
"Support for families needs to made available including overnight accommodation as well as financial and emotional support."
A spokesperson for the University Hospital Southampton NHS Foundation Trust said it could not comment.