Ex-prisoners in Thanet should be 'fairly distributed'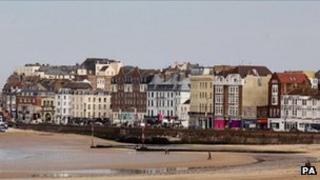 Too many ex-prisoners being released from Kent's jails are moving to Thanet, a Kent Police officer has said.
Insp Mark Pearson, who is on a the multi-agency task force, said: "When they do come to the area in such numbers it results in higher crime."
He is calling for a "fairer distribution" of ex-offenders.
Chris Bath executive director of the reformed offenders charity Unlock, said those leaving jail should be free to live wherever they want.
"It's not the state's responsibility to decide where people live," Mr Bath said.
"People leaving prison are making decisions around accommodation the same as everyone else, based on the availability of jobs and the cost of housing."
One third of those released in the last six months moved to Thanet with half of those living in the two wards of Margate Central and Cliftonville West.
Mr Pearson said: "It's down to the politicians and policy makers to really think how they can empower the police, probation and prison service to engineer a fairer distribution."
Family homes
"Communities in Cliftonville West and Margate Central really need the opportunity to breath and regenerate, and it's very difficult to do that when you've got substantial numbers of prisoners coming in."
In August Thanet District Council announced a £23m project to regenerate housing in the two wards.
The plans include buying some of the one-in-four empty properties in Cliftonville and central Margate.
Some of the large houses converted into single flats and bedsits will be turned back into family homes.
The council said it wants to encourage more families into "two of Britain's most deprived wards".
Rochester Conservative MP and member of the Home Affairs Select Committee, Mark Reckless said: "We should spread ex-prisoners around rather than concentrating them in a particular area, especially when the services are not in place to ensure they are properly monitored."