Energy firm shows fresh interest in Sheerness, says MP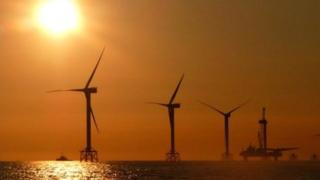 A renewable energy company has shown interest in the Isle of Sheppey after plans for another plant fell through, Kent MP Gordon Henderson has said.
The Sittingbourne and Sheppey MP said the development emerged during talks between politicians, renewable firms and Kent business leaders.
The company has not been identified because it is commercially sensitive information, Locate in Kent said.
Vestas cancelled plans for wind turbine manufacturing on Sheppey in June.
Mr Henderson said the meeting at Westminster that he set up with fellow Conservative MP for South Thanet Laura Sandys had been held under "Chatham House rules", governing the confidentiality of the talks.
'Major interest'
Peter Symons, director of business development at Locate in Kent, also said: "We can't reveal the name because it is commercially confidential."
But he added: "What we are trying to do is support Peel, the owners of the Port of Sheerness, in trying to tempt the offshore wind energy industry to establish itself in Kent and Medway, but the Port of Sheerness is a key element of our proposition."
He said business leaders wanted to say to the industry the Vestas site at Sheerness Docks was available and had the advantage of already having planning consent.
Mr Symons said: "There is major interest, but it's not going to happen quickly. A lot of other elements have to be put in place."
He said one of the elements was how the government would develop the energy market and added: "There is a big context to this."
He added: "It's important that we do raise the profile of Kent and Medway and any assets we have, but we have got to be very careful. It is a serious proposition for the industry but lots of things are beyond our immediate control."
Mr Henderson said an interested company had visited the Vestas site, but added: "It wouldn't be fair on local people if we raised their hopes too much. It's very early days."
The Vestas plan would have created about 1,600 jobs on the island.
When the Danish firm cancelled its plans, it said the factory had been conditional on concrete orders, which had not been received.