Dartford council offers cash to tenants to downsize homes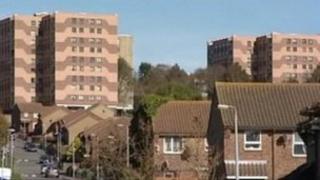 A second Kent council is to offer cash incentives for tenants to move into smaller homes in a bid to tackle its housing waiting list.
Dartford council said its "downsize for cash" scheme would help tenants who were under-occupying homes to move and free up larger properties for families.
They will receive £500 for each room released, plus £100 for moving costs and more cash for packing expenses.
Gravesham council has already announced a scheme to encourage downsizing.
Gravesham has also said it will pay tenants £500 for each bedroom they give up as well as removal costs up to £850. They will also help with decorating.
Dartford said that in its scheme, a couple moving from a three bedroom house to one bedroom would receive £1,100.
It said it would do its best to move tenants to an area of Dartford of their choice.
"The council aims to assist as many people as possible in finding suitable housing for themselves and their families," said Councillor Pat Coleman.
"To do this, we need our existing tenants' help in making under-occupied larger properties available to families in housing need."