The Isle of Sheppey: What lies ahead for the holiday haven?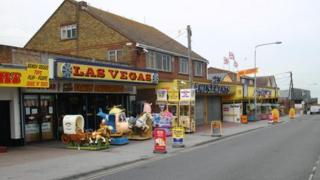 The land that time forgot, a giant caravan park or a safe haven for Londoners looking for a holiday retreat - all have been used to describe an island which is about nine miles long and five miles wide off the north Kent coast.
The Isle of Sheppey can be like stepping back in time, with some areas barely changed since the 1950s.
As a result, it has often suffered from negative press, not least because it has several holiday parks, many of them in Leysdown, housing about 7,000 caravans and chalets.
That is more "bedstock" of its type than any other district in Kent, and when full doubles the island's population to about 80,000, according to Swale Borough Council.
Earlier this year, Top Gear presenter Jeremy Clarkson suggested Sheppey was one big caravan site, prompting an offer from local MP Gordon Henderson to personally show him the other sights the island had to offer.
"If the island was as bad as some people make out then you wouldn't have all 7,000 of the holiday homes occupied and owned," said John Sissons, the sales and service manager at Priory Hill Holiday Park, in Leysdown.
The family-run business was founded in 1951 when holidaymakers used to come down to the island from London, Essex, and the rest of Kent by the coach-load, but had nowhere to stay.
The 54-year-old has lived on the island all his life and has seen generations of families coming on holiday together.
Many have an emotional attachment to the area and some even settle permanently on the island.
Mr Sissons said Sheppey had a "lot to offer" and they loved "the lure of the coast" and the "traditional seaside entertainment" at Leysdown, which is renowned for its family amusement arcades.
Ron Wood, who has owned a fish and chip shop in the town for seven years, said Leysdown was "what it's always been".
"It's the back end of the island, it's cheap and cheerful... it's old-fashioned."
Jobs boost
But in stark contrast, the island suffers from a high level of unemployment with Sheerness, the island's largest town, hit particularly hard.
Many people had their hopes dashed in June when the Danish wind turbine firm Vestas scrapped its plan to set up a manufacturing plant at Sheerness Dock, and with it about 1,600 jobs.
It came just six months after Thamesteel announced it was going into administration with the loss of more than 350 jobs.
Hopes were then raised when the steel plant was bought back by the old owners, but the Conservative MP for Sittingbourne and Sheppey says there is still "a great deal of uncertainty" due to a dispute about the ownership of the fixed assets.
However, Mr Henderson added that about 75% of the Thamesteel workers had managed to find other employment, and he was hopeful that another renewable energy company could be attracted to the island in place of Vestas.
There has been a fall in unemployment across his constituency over the last five months and a new retail park, to include a Morrisons supermarket, opening in Queenborough next spring will bring up to 500 jobs to the island, along with another 500 jobs on offer at a local jobs fair this week.
"I'm quite bullish about the future of the Isle of Sheppey as long as we as islanders stop running ourselves down and actually start saying this is a fantastic place to come to," Mr Henderson said.
Mr Wood, who also used to run a haulage company on the island, added that sometimes islanders were "their own worst enemies", and although money had been tight this year, he was hopeful too.
"If there was no future... I wouldn't be here," he said.