Tunbridge Wells Hospital plan to cut 200 jobs 'worrying'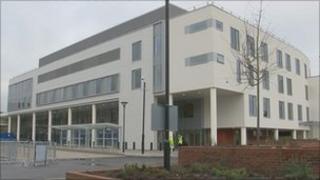 Cost-saving plans by an NHS trust which threaten to make 200 staff at a new hospital redundant are the "least worst option" available, unions say.
Maidstone and Tunbridge Wells NHS Trust has asked all 4,500 staff if they want to apply for voluntary redundancy as it seeks to save £20m a year.
Steve Brazier of the union Unison said it had to negotiate the "worrying step" to avoid compulsory redundancies.
The new £225m Tunbridge Wells Hospital became fully operational a year ago.
Mr Brazier, Unison's head of health in the South East, said: "Maidstone and Tonbridge NHS Trust will not be the first, or last hospital to have to take such worrying steps.
"Sadly, this is the least worst option available, and has been negotiated to avoid compulsory redundancies."
He said the trust had to pay its PFI (Private Finance Initiative) debts before it could spend on patient care or staff.
"Meanwhile, the demand for acute care keeps on rising. The Tory-led coalition's promises to protect the NHS do not bear scrutiny," he added.
But the trust said the cuts were unconnected with the cost of PFI repayments on the new hospital.
NHS cost savings
Chief executive Glenn Douglas said they were part of savings across the NHS.
"The NHS as a whole is facing £200bn cost savings over the next few years and and we have to provide our share of that," he said.
"Even without PFI we would still be facing the same challenges."
The final patients were moved to the 512-bed hospital at Pembury in September last year when the Kent and Sussex Hospital in Tunbridge Wells town centre closed.
Staff at Maidstone and Tunbridge Wells have until 5 October to express an interest in redundancy.
Unison said it would work with the trust to "minimise the impact" on patients and support staff to avoid them being required to cover for the work of colleagues made redundant.