Dover parade marks Dover tribute to Channel Dash airmen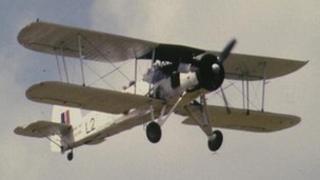 Hundreds of people have turned out in Dover to pay tribute to the airmen who took part in the wartime Operation Fuller - known as the Channel Dash.
Crowds lined the seafront to watch a Swordfish torpedo bomber fly-past and see the unveiling of a memorial.
Crews from HMS Kent provided a guard of honour during the ceremony in Marine Parade Gardens.
The Channel Dash was an attempt to stop German ships breaking through into the North Sea in 1942.
All 18 pilots who took off from Manston in six Swordfish torpedo bombers to try to stop three battle cruisers in the Channel were shot down and only five of the airmen survived.
Torpedo boats from Dover, shore batteries of the Royal Artillery and destroyers from Harwich supported the operation, planned in the tunnels below Dover Castle.