No interest in Nasa widow's space memorabilia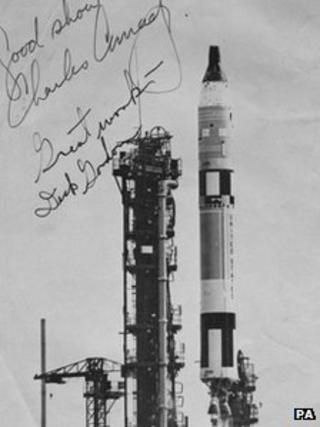 Memorabilia owned by a Nasa technician killed fuelling a Titan rocket on the US space programme at Cape Canaveral in 1997 has failed to sell at auction.
The items included a US flag flown for the launch of the shuttle Columbia and a photograph of the Gemini 11 lift-off in 1966 signed by its astronauts.
The widow of Bob Harvey was selling the items in Folkestone, Kent.
The lot, which had a guide price of between £500 and £800, failed to draw any interest from potential buyers.
Jonathan Riley, head of paintings at Grand Auctions, said: "There was not one inquiry, which was totally bizarre because it had gained publicity beforehand.
'No appeal'
"It's disappointing for the owner, whom it will all go back to now, because a lot of effort had been put into preparing for the auction.
"These things can happen but we had been expecting some interest. Clearly, the items just didn't appeal to anyone."
The collection belonged to Yvonne Harvey, whose husband was found dead on a platform near the top of the Titan rocket in Florida in June 1997 with a six-inch gash to the back of his head.
Grand Auctions said despite his wife's attempts to unearth the truth, the exact details about the 60-year-old's death remained a mystery.
The fuel technician, whose career spanned 30 years, is commemorated by a brick in the Spacewalk of Honour for his work on the programme.