K College staff in strike ballot over plans to cut jobs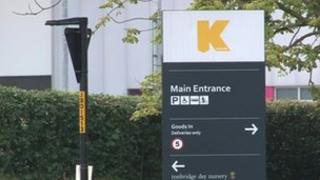 Staff at a college in Kent are being balloted for strike action over plans to cut up to 145 jobs.
The University and College Union (UCU) said it did not believe large numbers of job losses at K College across its six campuses were justified.
The college is holding a consultation on the proposed cuts to 110 full-time and a number of part-time posts.
Principal Bill Fearon has said staffing restructuring is necessary to ensure long-term stability of the college.
The staff affected include lecturers, management and support workers.
Staff costs
The college was formed after a merger between West Kent and South Kent Colleges.
It is blaming falling student numbers and the cost of running six campuses in Ashford, Dover, Folkestone, Tonbridge and Tunbridge Wells for the proposed cuts, announced last month.
UCU spokesman Adam Lincoln said it had asked for a commitment that the college will rule out compulsory redundancies.
"In fact, K College staff costs are around 62% of total costs and the national average is closer to 64%," he said.
"We have said we are willing to work with the college to identify alternatives to job cuts because we don't believe job cuts are economically justified
The strike ballot began on Monday and lasts until 28 September.