Chatham Docks development approved by Eric Pickles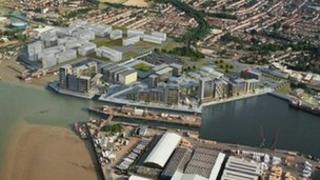 Plans to transform a 26-acre site at Chatham Docks into a £650m development, creating almost 3,500 jobs, have been approved by the government.
The Peel Group's Chatham Waters project includes hundreds of homes, a hotel, a supermarket and a conference centre.
Medway Council's planning department backed the scheme in June, which has now been rubber stamped by Communities Secretary Eric Pickles.
Building work on the brown-field site is now expected to begin next year.
Council leader Rodney Chambers said: "This is a major step forward for the regeneration of Medway and is a clear indication of how the area is growing and continuing to attract significant investment from developers and businesses.
"Not only will it create thousands of jobs for residents in the near future, but it will provide opportunities for future growth and unrivalled facilities for residents and visitors alike to enjoy and benefit from."
'Economic boost'
The Peel Group is behind other major projects including Media City at Salford Quays in Greater Manchester - home to the BBC, ITV and Coronation Street.
It also developed Glasgow Harbour and the Trafford Centre in Manchester.
Development director James Whittaker said he was delighted the outline plans had been approved by the Department for Communities and Local Government.
"The plan will regenerate and breathe new life into a significant area of the dockland and give the region a real economic boost.
"We will now continue preparing detailed plans for the first phase and we hope to be start building on the site next year."