Gravesham council tenants paid to downsize homes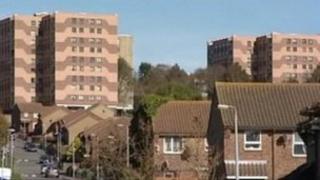 A Kent council is offering to pay its tenants to downsize to smaller homes to help reduce its housing waiting list.
Gravesham Borough Council will pay tenants £500 for each bedroom they give up as well as removal costs up to £850. They will also help with decorating.
Of the council's 2,598 three bedroom houses, 1,435 have only one occupant but there are more than 3,000 households on the waiting list.
"This is an entirely voluntary scheme," said Labour councillor Sue Howes.
'Emotional issue'
"No-one is being forced to move, but hopefully the incentive scheme, with all the practical help as well, will be the key to people deciding that it's a good idea."
Ms Howes said many single people with three or more bedrooms had brought up families in the houses and wanted to hang on to their homes.
"There is an emotional issue and it takes a big decision to give up what's been your home for many years even though practically it may be a good idea."
The council has 217 four-bedroom homes, with 122 occupied by a single person. Eight out of its 26 five-bedroom homes have one person living alone.
The new scheme, which will run until 31 March, also includes new flooring, curtain tracks and help with DIY tasks and dealing with utility companies.
It replaces a previous incentive programme when the council offered £250 per bedroom for tenants who downsized.
'Support mechanisms'
Leader of the opposition Conservative group Mike Snelling said housing was a massive and growing problem in the borough.
"You can't just prise people out of their community," he said.
"They have got all their support mechanisms there - it is an intractable problem.
"I hope this scheme works. I support it, but the previous scheme which offered less cash I think only freed up one four-bedroom house.
"It will be very interesting to see if this actually succeeds."