Reunion death man Carl Davies family feel 'fobbed off'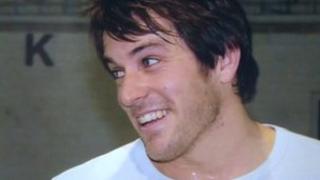 The family of a teacher believed to have been murdered on an Indian Ocean island have started a petition demanding information about his death.
Former Royal Marine Carl Davies, 33, from Harrietsham in Kent, was found at the bottom of a ravine in French-governed Reunion Island on 9 November.
His father Andrew Davies said he felt like he was being "fobbed off" and wanted politicians to act.
The Reunion authorities said they were doing all they could to solve the case.
It was initially believed Mr Davies' death was an accident but a murder investigation was started 10 days later.
Tests revealed he had been beaten and possibly sexually assaulted.
Mr Davies said: "Why don't the politicians wake up and do something for our family about the murder of our son?
"We will never disappear because the day I stop rocking the boat is the day I fail my son and my family and I will never do that."
'Regular contact'
The petition, which has been started by Mr Davies' sister Kerrie Stewart, states: "We want the government to help us all they can and not keep fobbing us off with 'we have no jurisdiction in their country'.
"My brother, an ex-Royal Marine who fought for his country, is now being let down by his country."
Public prosecutor on Reunion Island, Richard Bometon, said it was a "very complicated case which needs time and a lot of investigation".
A Foreign Office spokesman said: "Our consular staff have had regular contact with Mr Davies' parents and Kent Police since Mr Davies' death and the Minister for Europe has written to Mr Davies' family and their MP about the case, outlining the Foreign Office's role in tragic cases like this.
"We understand that Kent Police have been provided with full updates on the French police investigations."
Det Insp Gavin Moss, of Kent Police, said: "English officers have never travelled to Reunion Island as there has not been a requirement to do so as it is not a Kent Police investigation and we have no jurisdiction on a criminal investigation in another country.
"We are in regular contact with both Reunion officials and the family of Mr Davies to provide any help and support that we can.
"Indeed, we are meeting with the family next week."