Crunch time for British apple farmers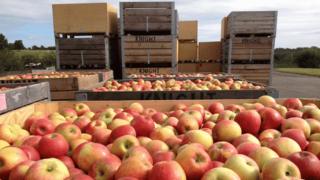 The wettest summer for 100 years has wiped out a fifth of Britain's apple crop but with the UK still importing about two-thirds of the apples it consumes, farmers have more than just the weather to contend with.
With 2,200 varieties of apple in Britain, you could eat a different kind every day for six years - and still find more.
But try to source a Peasgood's Nonsuch, Port Wine Kernel or Lord Lambourne at your local supermarket and you will struggle.
In fact, just two varieties - Gala (28%) and Braeburn (19%) - now account for almost half of all sales across UK outlets, British growers say. The supermarkets sell about 85% of the total.
The market remains dominated by cheap imports and focused on a few easy-to-grow varieties with long shelf-lives that travel well - depriving consumers of valuable choice.
Farmer David Knight, 65, who has run Pippins Farm in Kent for 30 years, says some traditional varieties have been pushed out as they are prone to disease, crop every other year or do not keep well.
But other fantastic varieties, he says, never see the light of day.
"Two things really matter for supermarkets and that's the shelf-life and appearance," he says.
"Those are two huge things and quite a long way down come the flavour and taste, whatever they say, but maybe they're getting a bit better."
Mr Knight's 50-acre farm produces 50 varieties of apple but only six or seven are taken by the one major supermarket chain he supplies as part of a co-operative.
'Obsessed'
He dedicates just one-and-a-half acres to heritage varieties, which he sells at special festivals, fairs and in the farm shop.
He's also planting popular new foreign varieties such as Cameo (US), Jazz (Australia), Rubens (Italy) and Fuji (Japan).
"They [supermarkets] have lost sight of seasonality, they're obsessed with having everything on the shelf every week of the year and none are going to break ranks," he says.
Mr Knight says he recently grubbed four acres of one of his favourite apples - Russets - as they were not selling.
"The apple's great, but it has a limited season, and it's not red, it's not green, it's golden brown, so it doesn't fit in very easily.
"They sell at market stalls if you go into London because there's someone behind the counter to talk to the customer... but you've got to produce what you can sell."
He says supermarkets have strict specifications on size, colour and surface characteristics, with any deviations leading to rejections.
Eating apples must range from 55-80mm, Bramley cooking apples from 75-110mm, and apples must be almost entirely free of russeting, frost cracking and hail and insect marking, he says.
English Apples and Pears, which represents growers, says consumers should also take responsibility for the limited varieties on offer as they do not often choose based on taste or seasons.
"People want the same thing available 12 months of the year and however much we urge them, the reality is many consumers buy on appearance rather than taste," says chief executive Adrian Barlow.
"We don't like it but we have to be realistic."
He says the number of British growers has fallen dramatically from 1,550 in 1987 to just under 400 today but the industry has seen a revival in recent years.
Supermarkets have greatly improved their support for British growers, he says, increasing the overall home-grown market share from 23% in 2003 to 38% today.
The industry has also been boosted by investment in more efficient cold stores and pack houses, which help prolong the British season.
The supermarkets say they work closely with British growers but also need to satisfy demand from shoppers for other varieties that cannot be grown in the UK.
Golden Delicious, Granny Smith and Pink Lady do not grow successfully in the UK because of the climate.
Sainsbury's says it stocks just short of 100 varieties of apple, of which 52 are home-grown, with up to 65% British during peak season.
It says its orchards develop new varieties and stores will promote traditional and new apples in "Best of British" packs.
Morrisons says around 40% of the 45 varieties it sells are British during the home season, while Tesco says 21 of its 34 varieties are home grown.
Waitrose says it stocks 50 varieties, half of which are sourced from the UK, rising to 85% in November and December.
And last year Asda says it stocked 56 different kinds, 40 of which were British.