Orpington woman hurt as brick thrown at car in Dartford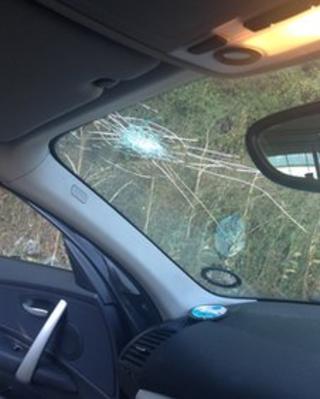 A 23-year-old woman suffered injuries to her eyes after an object, believed to be a brick, was thrown at her car from a bridge in Dartford.
Kent Police said Georgina Hillier, from Orpington, south-east London, was a passenger in the car on the M25 heading towards the Dartford toll booths.
The object smashed the car's windscreen on Sunday, cutting Ms Hillier's wrist. Shards of glass went into her eyes.
She was treated at Darent Valley Hospital and has no lasting injuries.
Her partner, Ian Barnard, who was driving, was not injured.
'This young woman has suffered a terrifying experience which could have resulted in considerable injuries," said Sgt Sarah Rivett.
"She has been lucky and the medical treatment she has received will ensure no lasting damage."
Two men seen standing on the bridge headed off towards Greenhithe.
Ms Rivett appealed for any witnesses to come forward.
"We must prevent something like this from happening again," she said. "Next time the victim may not be so lucky."