Benenden primary school plan 'blights beauty spot'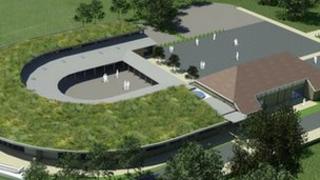 Parents at a village in Kent say misguided environmentalists are standing in the way of their plans for a much-needed new primary school.
They say Benenden Church of England School's cramped buildings are hundreds of years old and need replacing.
But conservation group the Open Spaces Society said the visible development would blight a popular beauty spot.
Plans for the new site south of Rolvenden Road will be submitted to Kent Country Council next month.
Headteacher Jenny Reich said: "We have a beautiful building but it's very limited in space and facilities.
"At the moment it would be impossible for any child with physical disability to come to the school. No child in a wheelchair would be able to access the school."
'Very prominent'
Teachers say the school is so cramped for their 170 pupils that they move whole classes outside when the weather is fine.
Parent Emma Cunningham said: "I'm really concerned about what happens if the planning permission doesn't go through from Kent County Council (KCC) and what happens to Benenden as a community if there's no new school.
"I think we should build the building that's on the plans - which is beautiful - and celebrate it and be proud of investing in our community for the next 400 years."
The main part of the school is 150 years old, but there are a total of five sites, some more than 400 years old.
Kate Ashbrook, general secretary of the Open Spaces Society, said the "very prominent" site on high ground was crossed by three public footpaths which would have to be diverted.
"We feel that is just a really bad spot for this, it will be very visible, the lighting will make it visible at night and people walking the footpaths will be going close to the buildings and it won't be a pleasant walk for them."