Thanet Council urges halt to live exports at Ramsgate Port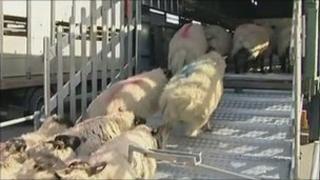 The shipment of live animals through Ramsgate Port should be suspended due to the lack of facilities, Thanet District Council has said.
Leader Clive Hart has written to the environment secretary urging action to protect the welfare of livestock, such as building a resting facility in Kent.
The council owns the port but says it is powerless to stop the trade.
The letter comes after 600 sheep were forced to spend 24 hours on a transporter after its tyre burst.
The council said the animals had to be driven back to Northampton on a "long, uncomfortable" journey as there were no facilities in Kent for them to be removed, fed and watered.
The letter, sent on Friday to Environment Secretary Owen Patterson, stated: "Whilst we recognise that it is a lawful trade, we are also conscious of our responsibilities regarding the welfare of animals passing through our port.
"We consider it paramount that the EU regulations are implemented strictly in order to avoid any suffering caused to the animals by transportation."
Demonstrations
It makes five significant requests:
Establishing formal resting pens in Kent as a matter of urgency
Allowing RSPCA officers to inspect lorries transporting live animals
Authorising the RSPCA to check ventilation and water systems
Giving the council access to final locations and journey times of animals
Supporting any decision by Thanet Council to refuse access to the port on animal welfare grounds, and helping financially with any legal challenge that follows
Thanet Council also said it would not "shrug its responsibility" regarding its duty of care towards animals going through the port.
Laws and regulations regarding the the transport of live animals should be applied strictly, it added.
A spokesperson for the Department for Environment, Food and Rural Affairs (Defra) said: "We take animal welfare very seriously and ideally would rather see livestock slaughtered as close as possible to where they are farmed.
"However, when animals are transported there are stringent rules including on fitness to travel, space allowances, ventilation and access to water and feed.
"These are strictly monitored and we will take swift action if they are not followed."
Live exports currently take place at the Port of Dover where animal rights protesters have held regular demonstrations.