Campaign to extend squatting law to commercial property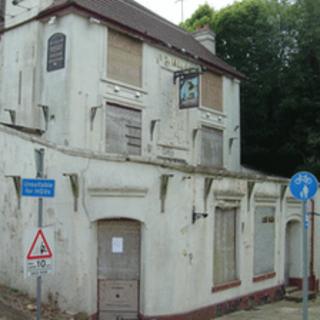 A campaign has been launched in Kent to make squatting in commercial buildings a criminal offence after a boarded up village pub was taken over.
People in Blue Bell Hill near Chatham say the law should change so they could be removed from The Upper Bell Inn.
Chatham and Aylesford MP Tracey Crouch wants a new law making it illegal to occupy residential properties to be extended to businesses.
She said squatting in commercial properties was not a victimless crime.
"One of the things that concerns me is that there has been a move now into disused pubs like the pub in Blue Bell Hill, and we know that throughout the county there are many disused pubs in villages," she said.
"It's important that we get some clarification, particularly on mixed-used buildings like pubs as to where people stand.
"This isn't a victimless crime, so it's important that we look into this and try and outlaw it as soon as possible."
Cost of damage
Since the start of the month, anyone found in an empty residential home risks up to six months in prison.
Security expert Steve Cross, who lives near Maidstone, said small companies cannot sustain the costs that squatters cause.
"When I was with the Minister of Justice at the time, Crispin Blunt, we were stressing the importance of being able to gain properties back once they'd been squatted quickly because of the damage that's been caused," he said.
"Some of the smaller property owners would potentially go out of business because of the damage."
On Tuesday, three men appeared before Brighton magistrates charged under new anti-squatting legislation following a police raid on a flat in the city.
They were all charged with squatting in a residential building and bailed to re-appear there in October.