Two Kent Police officers to face charges over restraint death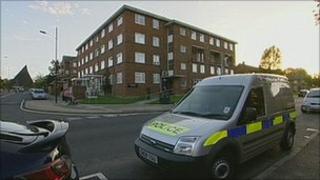 Two Kent Police officers are to be charged after a man died while he was being restrained by police.
Pc Maurice Leigh and Pc Neil Bowdery are to be prosecuted for misconduct in public office following the death of Colin Holt on 30 August.
The 52-year-old, who had been held under the Mental Health Act at Medway Maritime Hospital, in Gillingham, had been reported missing earlier.
He died from positional asphyxia at his flat in Goudhurst Road, Twydall.
PC Leigh and Pc Bowdery have been summonsed to appear at Medway Magistrates' Court on 8 October following an investigation by the Independent Police Complaints Commission (IPCC).
IPCC Commissioner Mike Franklin said: "We welcome the decision by the CPS following its review of the evidence to authorise charges against PC Maurice Leigh and PC Neil Bowdery for misconduct in public office.
"That decision follows an independent investigation by the IPCC into the actions of Kent Police officers who were at Colin Holt's flat when he died."