Thanet sewage spill beach closure inquiry opens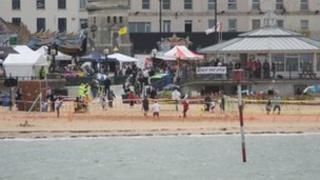 An inquiry into a sewage spill which closed Blue Flag beaches in Thanet earlier this year has opened in Kent.
More than 20 beaches were closed in June after raw sewage entered the sea when the Southern Water Foreness Point Sewage Pumping Station failed.
The inquiry, set up by Thanet Council's scrutiny and overview panel, will look into how the incident was managed.
Chairman Ian Driver said a report would then recommend how to effectively deal with a similar incident in the future.
'Awful event'
The inquiry will look at how effectively Thanet District Council, the Environment Agency and Southern Water managed the incident.
"The local economy's been badly hit and then there's also the issue of environmental damage, and we really need to look at what caused this, what action was taken and how quickly it was acted on," Mr Driver said.
The beaches had to be closed over the Jubilee bank holiday weekend from 4 until 12 June following the sewage spill on 30 May.
Local people, including business owners, who were affected by the contamination will be given the opportunity to give evidence to the inquiry at a public meeting being held in the Council Chamber in the council offices in Margate on Thursday 11 October.
Mr Driver said: "Once we've spoken to everyone and asked our questions, we're then going to produce a report which will be making a series of recommendations about how in future, if such an awful event was to happen again, all the different agencies can co-ordinate and work together more effectively to reduce any damage and any problems to the people of Thanet."