Inmate Shaun Battye fails to return to Kent prison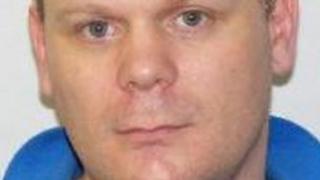 A 37-year-old prisoner who failed to return to a Kent jail after temporary release is believed to be heading for the South Yorkshire area, police said.
Shaun Battye, failed to return to Rochester Prison on Monday after a day of work as part of his sentence.
Kent Police said he had family in Rotherham, Doncaster and Sheffield. He also uses the name Tristan Lea.
He is described as 5ft 9in, with blue eyes and mousy brown hair. He is stocky, with a Yorkshire accent.
He was wearing prison-issue green work trousers over blue jeans, a striped t-shirt and a high visibility jacket.
Police have appealed for anyone for information to come forward.