Memories of 1950s Brighton wanted for project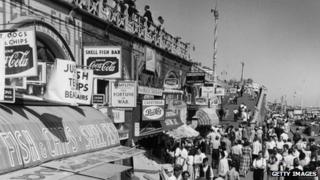 People in Brighton have been asked to donate 1950s memorabilia of the city to help create a nostalgic installation.
Brighton Council wants photographs, posters and tickets for a "memory wall" at Jubilee Library this weekend.
Local stories reflecting the decade include a small pox outbreak, the Promettes on the seafront and Teddy Boy fashion filtering down from London.
The wall is linked to a reading scheme which this year showcases a book by a local author set in 1950s Brighton.
'Everyday or obscure'
My Policeman by Bethan Roberts tells the story of a woman who fell in love with a gay policeman having a relationship with a curator at Brighton Museum.
It was set at a time when being gay was a crime and people were very guarded about the subject.
Cllr Geoffrey Bowden, chairman of the economic development and culture committee, said: "The memory wall is about bringing our city's recent history back to life in the centre of our community.
"We can learn from the past to make a positive future. The collection is for everyone, the everyday item can be as fascinating as the obscure."
Library staff will make copies of all contributions for the wall, returning original items to their owners.