Paralympic Brands Hatch cycling events begin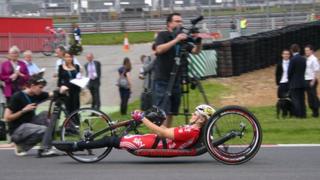 Paralympic cycling events are under way in Kent with more than 220 athletes from 50 countries competing at Brands Hatch and on nearby roads.
About 7,500 spectators are expected at the venue each day to watch the cyclists vie for for 96 medals in 32 races over the next four days.
It is the biggest event held at the circuit near Swanley since the 1986 British Formula One Grand Prix.
Kent County Council has published a map of the roads affected by the closures.
Parking restrictions and closures affecting the A20 at Gorse Hill, Scratchers Lane in Fawkham and Fawkham Road in West Kingsdown will remain in force until Saturday.
Ticketless viewing
Spectators are being encouraged to travel by train to Sevenoaks station and use the free bus shuttle service.
There is also a free park-and-ride service from the top of Wrotham Hill, just off the A20, close to junction two of the M20.
Non-ticket holders can view the races along the A20 and Scratchers Lane.
The cyclists will take part in time trials, where competitors race against the clock, and road races.
They will compete on a mix of bicycles, tricycles, tandems and hand cycles.
Mike Groves, the circuit manager at Brands Hatch, said: "We've got a two-mile circuit, [but] the actual road cycling course is about a six-mile circuit using a combination of both Brands Hatch and the public surrounding roads."