Maidstone CAB 'wins 95% of work test benefit appeals'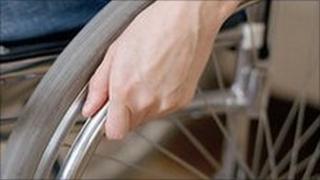 Dozens of people told they would lose benefits as they were "fit for work" have successfully appealed, Kent's biggest Citizens Advice Bureau says.
Advisers in Maidstone say 95% of those seeking their help won their cases.
They are urging reforms to the way ill-health and disability are assessed for employment support allowance (ESA), which is replacing incapacity benefit.
Those deemed unable to work at all get the highest ESA rate while those "fit for work" get jobseeker's allowance.
The government is reassessing all 2.6 million people on incapacity benefit and ESA by 2014 to get more people into work and reduce welfare bills.
'Treated like cattle'
It says the 800,000 people who claimed ESA in the UK in the year to April were paid £3.7bn. In Kent, £47m was paid out in the benefit the year before.
Pete Sayonas from Maidstone CAB said the concept of the assessment was "very positive" for people with sickness and disability, as they had been excluded from everyday activities for too long.
But he added: "My concern is that because of welfare reform - £18bn was announced is going to be cut off the welfare bill - a lot of the decisions being made are more for that, rather than the actual person's ability to be fit for work in the system's eyes."
Dave Willoughby, from Sevenoaks, had an operation a year ago for a severe back problem and was wrongly assessed as being fit for work before he successfully appealed.
"I can see where they're coming from, that there are people flogging the system for what they can get," he said.
"I just think the way they go about it and the way they treat you and talk to you is just not very personal and not very nice.
"They think you're all trying to fiddle the system when there's people out there who are genuinely ill and not available to work, and they just treat you like cattle."
Campaigners say the disabled population has become stigmatised by the new system.
But the Department for Work and Pensions said in a statement it had considerably improved the assessment process since 2010.
"We have made progress in giving people a more tailored and personal service and as a result we are seeing an increase in the number of severely disabled people being given long-term unconditional support," it said.