Battle of Britain Spitfire pilot honoured with flypast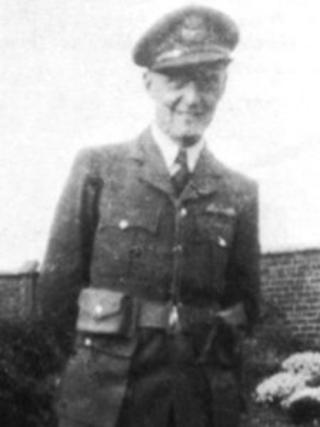 A Battle of Britain pilot who was killed when his Spitfire crashed following a dogfight in the skies above Kent has been honoured.
Flying Officer Oswald St John "Ossie" Pigg lost his life in the crash at Elvey Farm on 1 September 1940.
The 22-year-old had been involved in an aerial fight with a Messerschmitt.
A plaque was unveiled near the site by his niece Stephanie Haigh and the Battle of Britain Memorial Flight carried out a flypast on Thursday.
A memorial ceremony was also held at Elvey Farm, which is now a hotel. It was attended by representatives from his squadron, Battle of Britain veteran Wing Commander Bob Foster, Air Chief Marshal Sir Michael Graydon and Air Chief Marshal Sir John Day.
The service was organised by the Battle of Britain Memorial Trust which looks after the National Memorial to the Few at Capel-le-Ferne, near Folkestone.
Mr Pigg was born in Jarrow in 1918, went to Royal Grammar School in Newcastle and is buried at St Oswald's Church, Durham.