Kent coast path route unveiled by Natural England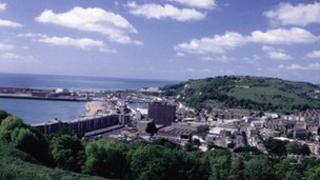 Plans to create a walking route along the Kent coast as part of the England Coastal Path project have been unveiled by Natural England.
This 37-mile (60km) section of the path will run from Ramsgate to Folkestone and go close to the towns of Sandwich, Deal and Dover.
Natural England and Kent County Council have met landowners to discuss where the route should go.
A 12-week public consultation will end on 9 November.
Final proposals will then be submitted to the government.
Natural England area manager James Seymour said: "We have had discussions with landowners and key organisations along the proposed route; their input has been essential and helped shape the draft proposals."
Kent councillor Mike Hill, cabinet member for customer and communities, said: "Working with Natural England, the county council has put in a great deal of effort to deliver a new national trail that will show off the very best of Kent's fantastic historic and natural coastline."
He said the path, when complete, would bring significant social and economic benefits to coastal communities.
Drop-in sessions are being held at Folkestone library on Tuesday, Dover library on 18 September, Deal library on 29 September and Ramsgate library on 27 September, for residents to find out more information.