Kent Miners Festival marks Snowdown pit centenary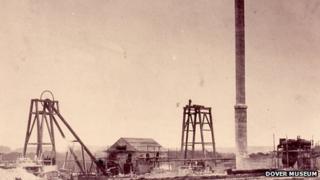 The centenary of the opening of a Kent colliery is being celebrated at a festival in Aylesham in a bid to keep the miners' community spirit alive.
Snowdown Colliery opened in November 1912, when the first coal was brought to the surface.
The Kent Miners Festival is in its fourth year, but it is being stepped up this year to make sure people know the county's mining history.
"We can't just let our history go," former miner Gary Cox said.
"It means a lot to people in the area. Unfortunately, our collieries are not open now but it's important we keep our history alive and marking this milestone is very important to us."
'Created own culture'
When the miners' strike was in the news in the 1980s, people got the wrong impression about the mining community, he said.
"Today, it's more far more than going on strike. It's the history and the heritage and its importance to the towns and villages around us."
Mr Cox, whose father and two grandfathers were also miners, said organisers expected 500 or 600 people to attend the first Kent Miners Festival but 10,000 turned out, and the festival became an annual event.
He said the community spirit among miners grew strong because people came from across the country to work in the pits.
He said: "It was a culture shock for people here, the farmers and fishermen. It wasn't well received. It turned us in on ourselves and we created our own culture and our own way of life.
"Houses were built outside of the towns for miners, so we had our own bands, social clubs, first aid places and schools and we are trying to keep that alive.
"We had lots of uncles. We only realised later they were our father's colleagues. It was like a big family."
According to Dover Museum's Coalfields Heritage Initiative Kent, geologists first speculated there was coal beneath Kent in the 1840s but did not investigate until 1890.
Kent ended up with several pits, including Snowdown, Tilmanstone, and Betteshanger.
The Kent Miners Festival is taking place on Monday, and a week of celebrations has been planned to mark the Snowdown centenary in November.