Pyrotechnic firm The World Famous forced to close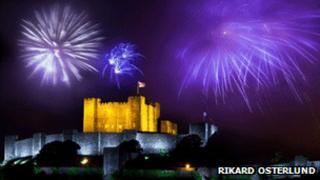 A pyrotechnic arts company which created the firework display for the Olympic Torch relay in Dover is closing due to a lack of public funding.
The World Famous, based in Hadlow, Kent, stages most of its art shows free, relying on subsidies from arts councils, festivals and local councils.
Director Mike Roberts blamed the general economic decline but also a cultural shift to more elitist events.
The Arts Council England said it had supported the firm for years.
Mr Roberts said the closure would affect four full-time members of staff and a core of 30 regular freelancers.
He said while the Queen's Diamond Jubilee and Olympics had led to an exceptionally busy year, there had been an underlying decline in the industry.
'Elitist art'
"There have always been challenges inherent in making shows for large audiences with public money," he said.
"But in this changing political and financial climate, it is becoming increasingly difficult to create free and accessible shows at large scale and retain our artistic integrity.
"The majority of our work has been presented free to the public - funded by festivals, Arts Council England, local authorities and other agencies.
"But as overall arts subsidy decreases, there is also a cultural shift away from support for accessible large-scale work towards more elitist 'high' art."
Mr Roberts said he would start the process of closing the 13-year-old firm at the end of August, and would be closed by the end of the year.
The company has created displays all over the world, recently working with choirs, musicians and gymnasts at Song for Dover, a show celebrating the Olympic torch relay in the town.
One of its last shows will be a celebration of the Paralympic torch relay in Aylesbury, Buckinghamshire on 28 August - the eve of the Games.
The display near Stoke Mandeville Stadium - the home of the Paralympic movement - will light up the market square with fire, fireworks and high-tech projections.
The Arts Council England said it had been a key supporter of the "internationally respected" arts group for years and its closure would be felt within and beyond the region.