Brothers killed in WWI inspire Hawkhurst artwork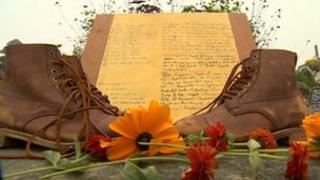 An artwork inspired by two brothers killed in World War I is due to open at a village in Kent.
The series of sculptures in Hawkhurst includes personal artefacts and family heirlooms donated by villagers.
Artist Vivian Pedley was inspired to create the work near a war memorial on the Tongswood estate honouring Charles and Norman Gunther and 12 other men.
The art installation there, which includes a bible and hundreds of shoes, took the artist a year to complete.
A Memorial to a Memorial in the grounds of the privately-owned Walled Nursery also features 14 pairs of World War I soldiers' boots that appear to walk away from the memorial.
'Very moved'
In between each pair stands a cross carved from a 100-year-old oak.
The original stone memorial to the Gunther brothers was erected by their father on the Tongswood estate where they lived. It now sits within the grounds of Saint Ronan's School.
Norman died in northern France in 1917 aged 19 and won the military cross for bravery. His brother Charles died a year later, aged 28, also in northern France.
Francesca Kaye lent the artist the family bible which her father took to World War II and her grandfather to World War I and which both wrote in. Excerpts have been used as part of the work.
She said she was "very moved" that ordinary people with a story to tell had a chance to share their family histories.