Olympic Australian sprinter's spikes stolen from school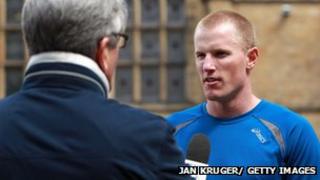 Australian Olympic sprinter Andrew McCabe has had his running spikes stolen from his Kent training base.
Mr McCabe had a bag containing personal items and his national kit taken from a bench beside the running track at Tonbridge School, Tonbridge.
The 21-year-old is due to compete in the 4x100-metres relay on 10 August.
Kent Police said a 28 year-old man from Tonbridge had been arrested in connection with the incident, which took place on Friday, and bailed.
The force said some items had been recovered, but did not say whether they included Mr McCabe's running spikes.
The Australian athletics team has been using Tonbridge School, one of the country's leading boys' boarding schools, as its training camp.
Mike Tancred, Australian Olympics Team spokesman, said: "It's very disappointing for Andrew McCabe. He had his kit beside the running track, where he was in a training session. He had his iPhone in, his headphones and some personal items."
He added: "The main thing he's disappointed about is he's lost his kit including his running spikes.
"We would very much like to get his running spikes back because he's representing Australia in the 4x100 relay next Friday and it's a bit late for him to be trying in a new set of spikes, so he'd his old ones back if he can get them."
Kent Police said Mr McCabe's bag did not contain any official Olympic identification or accreditation passes.