Sandwich Pfizer site sold to private consortium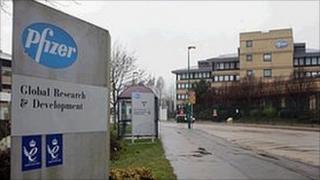 Pfizer's research and development facility in Kent has been sold to a private consortium.
The pharmaceutical giant announced it was closing Discovery Park in Sandwich in February 2011, leading to the loss of 1,500 jobs.
Private consortium Discovery Park Limited said on Thursday that it had bought the freehold to the site.
The drugs firm will retain some operations at the plant, which had employed 2,400 staff.
'Further investment'
Paul Barber, who has been appointed managing director of Discovery Park Limited, said: "This is an exciting project for me and our whole team.
"We look forward to working with Kent County Council, Locate in Kent and central and local government to secure the long term future of this site.
"Pfizer has taken a lease of around 250,000 sq ft of offices and laboratories and together with our other tenants we have around 1,000 people employed on site.
"We have received several inquiries from companies looking to locate to this site and we will progress these with extreme vigour."
Paul Carter, leader of Kent County Council, said: "We've been waiting for this for many months now.
"It was a two-horse race, one horse dropped out, and in the final furlong I think we've got some very, very able, very, very capable, ambitious new owners of Discovery Park in Sandwich, and that's great news for Kent."