Ramsgate church marks 950th anniversary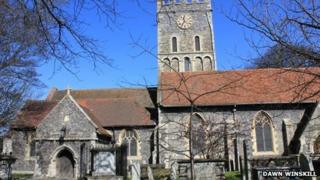 A Kent church is celebrating its 950th anniversary with a week of events.
St Laurence-in-Thanet in Ramsgate was built in 1062 and originally consisted of just the tower and the nave.
The building was extended in the 12th and 13th Centuries, although the tower was damaged by a storm in 1439 before being rebuilt and raised in height.
Queen Victoria worshipped at the church as a young girl and in 1897 the clock was bought to celebrate her diamond jubilee.
The great east window, depicting the story of St Augustine bringing Christianity to Kent in 597 was also given in memory of Queen Victoria.
There are about 1,400 graves in the churchyard, some dating back to 1656, and there were also mass graves dug for those who died in the Napoleonic wars.
Events include church services, concerts and a session where the public are invited to try handbell ringing.