Maidstone United return home to new football stadium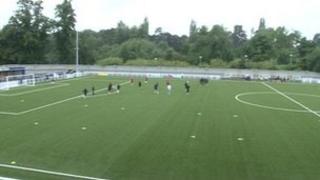 Maidstone United FC have played their first match back in their home town following an absence of 24 years.
The Kent team played host to Brighton and Hove Albion at their new £2.6m Gallagher Stadium in James Whatman Way.
It was built thanks in part to a £150,000 grant from the Football Stadia Improvement Fund, the largest funders of non-league football in the country.
The rest of the cost for the 3,000 capacity ground was met by the owners, shareholders and supporters.
Bill Williams, chief executive of Maidstone United, said: "The contribution from the Football Stadia Improvement Fund has helped to make the Stones homecoming a reality.
"For the first time in nearly a quarter of a century, the county town of Kent has its own football stadium - a facility that will be enjoyed by supporters and can be used by the whole community."
The club had been sharing grounds in Dartford, Sittingbourne and Ashford.