Mark McCammon 'went through hell' at Gillingham FC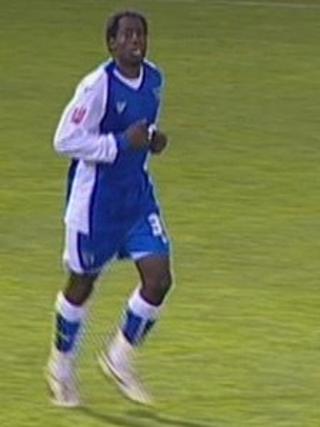 A black footballer who claims his former club racially discriminated against him has told an employment tribunal he had been "through hell".
Striker Mark McCammon, 33, felt the management and chairman at League Two side Gillingham acted differently after he queried the payment of his wages.
He claims he was victimised because of the colour of his skin and was treated differently from white players.
"It was traumatising to be at Gillingham Football Club," he said.
"I have been through hell at this club," he told the tribunal in Ashford.
Mr McCammon claimed in his witness statement that he was ordered to come into the ground amid "treacherous" snowy driving conditions, while some white players were told they were not required.
He has also alleged that the club tried to "frustrate him out" by refusing to pay private medical bills to help him regain his fitness following injury.
The former Charlton, Swindon, Millwall and Brighton player said that in contrast, a white team-mate had been flown to Dubai for treatment at the club's expense.
'Phenomenal deal'
Mr McCammon signed for Gillingham in 2008 on a salary of £2,500 a week, making him the club's highest-paid player.
"It was a phenomenal deal," he said. "It was a deal that most players would have taken."
But he disputed claims that the "trade off" was that if Gillingham remained in League Two during contract terms, his salary would be cut by 15%.
Mr McCammon said: "There was absolutely no way I would have agreed to that. That wasn't making sense to me."
The tribunal has heard that a clerical error in Mr McCammon's contract meant the 15% line was accidentally omitted despite being agreed verbally.
Dubai-based Gillingham chairman Paul Scally has described claims that Mr McCammon was racially discriminated against as being made "maliciously and without foundation", adding that the club had not had to deal with an allegation of racism in 18 years.
Mr McCammon is suing the club and Mr Scally for race discrimination, breach of contract, unfair dismissal and failure of his ex-employer to pay him.
The final day of evidence is expected to be on Friday, with the judgement announced at a later date.