Medway and Dartford NHS merger could provide Bexley care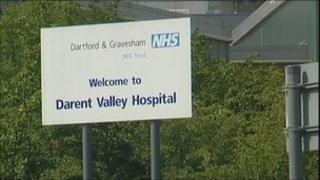 Two Kent health trusts could provide services to an area of south-east London if plans to merge go ahead.
Medway Foundation Trust and Dartford and Gravesham NHS Trust announced their plan to create an single organisation in September 2011.
If their merger bid is successful they want to provide hospital care for patients in Bexley.
Susan Acott from Dartford and Gravesham Trust said it already provided some services to south-east London.
'Specialist services'
Ms Acott, chief executive of the trust, which runs Darent Valley Hospital, said: "Dartford and Gravesham NHS Trust already provide services to the Bexley population, and other areas of south-east London, increasingly so after the closure of emergency and maternity services at Queen Mary's Sidcup Hospital.
"The trust's plans for integration with Medway Maritime Hospital reflect the current situation, and also reflect their desire to offer the new specialist services they aim to develop to Bexley patients, in addition to north Kent patients."
The business case for the merger also states that the two trusts' dermatology and ear, nose and throat outreach clinics, which are already provided jointly, represent a "natural platform" to take on Bexley activity.
In addition, there are also "future plans" to develop an outpatient and inpatient renal services to the populations of both north Kent and Bexley.
These are likely to include a renal anaemia service and acute kidney injury service.
Howard Stoate, chairman of Bexley Clinical Commissioning Group, said: "Our priority is a strong stable trust that can deliver the best healthcare.
"If a merger achieves that goal, then that's something I support."