Kent County Council: Thanet unemployed 'do want to work'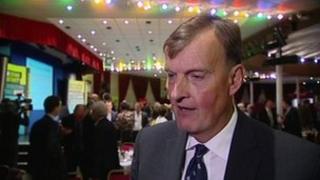 Claims that east Kent's unemployed do not want to work have been rejected by the leader of Kent County Council.
Recruitment consultant Paul Andrews said plenty of jobs were available in Thanet, where unemployment is just over 6%, but local people did not want them.
Dover hotelier Trevor Bond said the local workforce was being outclassed by workers from eastern Europe.
Councillor Paul Carter said most people did want to work and the county was working to address skills shortages.
Kent County Council figures show unemployment in Thanet is 6.2% of the population, compared with the South East average of 2.6%.
'Matching skills to jobs'
Mr Andrews said that his firm had 500 unfilled jobs available in Thanet on Monday.
He said: "There are some people that don't want to do them.
"There are some people that can't do them but do want to do them. There are some people that just lack the skills."
Mr Bond said: "We don't deliberately go out and hire migrant workers. We just look for the best."
He added: "It just happens that often it comes from people that have not lived for a few generations in east Kent and they can be from Europe, they can be from South Africa, Australia, wherever."
Mr Carter said: "There are those people that don't want to get out of bed in the morning and go to work but I think the vast majority of people do want a decent job.
"It's matching the skills to make sure they've got the skills for the jobs that are out there."
He said the council had been at the forefront of developing good vocational skills in schools, careers guidance and positive relationships with businesses.
"It's something that affects the whole of the country, not just in Kent. But I think we are further ahead than most," he added.