Accused GP Richard Scott says GMC persecutes Christians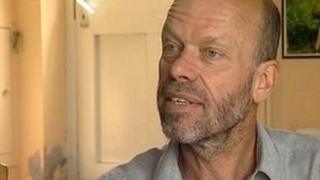 A Kent GP has accused medical watchdogs of persecuting Christians after denying trying to convert a patient.
Dr Richard Scott told the General Medical Council (GMC) that "doing God is good for you".
He is before the GMC accused of breaching medical rules by refusing to give a patient medication at his Margate surgery, in August 2010.
Dr Scott denies overstepping the mark but said a doctor could not "just take off" his faith.
The GP claimed the GMC had pursued the case against him with "excessive zeal" and was "singling out Christianity" as part of a "wider trend to marginalise" the faith.
'Not a maverick'
Dr Scott has worked with his wife, also a GP, at the "expressly Christian" Bethesda Medical Practice since 2003.
He told the council scientific studies, mainly carried out in the United States, showed faith benefited patients.
"Spirituality and faith is now becoming a new angle with medicine," Dr Scott told the hearing.
"It's a new specialism. The fact that Christians are optimistic is very positive for health.
"I'm not just a maverick doctor reaching out to patients.
"You can't just take off your faith when you enter the consultation room, either as a patient or doctor."
'Non-threatening'
Under cross-examination by Andrew Hurst, counsel for the GMC, Dr Scott denied telling his 24-year-old patient that he would "suffer eternally" if he did not convert to Christianity.
Dr Scott said the patient was happy to talk about religion, when he had raised the subject in a "gentle, non-threatening" way.
Mr Hurst said "the effect" of what he told the patient was to promote Christianity over the patient's own religion.
"He had walked away from his own religion," Dr Scott said.
"I'm offering something that could have changed his life."
Paul Diamond, counsel for Dr Scott, told the committee his client believed the GMC was singling out Christianity.
"He does believe Christianity has been singled out for adverse treatment and believes this to be a wider trend in our society to marginalise the Christian," he said.
The case continues.