White cliffs of Dover memorial to honour war dead planned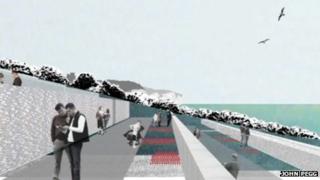 A national memorial on Dover's white cliffs commemorating 1.7 million service personnel and civilians killed in the two world wars is being planned.
Organisers are hoping to complete it by 4 August 2014 - the centenary of the outbreak of World War I.
It would have 12 white granite walls, each representing one year of conflict.
The names of the 1.7 million men and women recorded on the Commonwealth War Graves Commission register would be inscribed on the memorial.
They include servicemen and women, merchant navy personnel and civilians.
The memorial has been inspired by the Vietnam Veterans Memorial in the US capital Washington DC.
Designer John Pegg said: "I think we've got to move fairly quickly now to meet the 2014 deadline, but we're very keen to go for that because it's such an important date in everyone's calendar."
'Each step'
He said one planning application had already been submitted because the memorial would be a small part of a bigger development on Western Heights, including housing and a hotel.
He said fundraising would begin after the outcome of the application was known.
Mr Pegg said: "Looking from the sea, you would see a 20-metre high wall of white granite.
"Every inch of that wall would be covered in the names of 1.7 million dead and it's one way to really understand the nature of the sacrifice that this country and the Commonwealth went through."
He added: "If we put 1,000 names per metre, that wall is still going to run for 1.7km, so for every step of the way, for a mile and a bit, you will be passing a thousand names of individuals who have got your family name, my family name and the family names of many, many families from around the Commonwealth."
David Foley, from the National War Memorial Campaign, said: "I think if school parties or young people walk past that memorial perhaps looking for their forebears or their family names, they will realise that each step is a thousand deaths."
He said the Commonwealth War Graves Commission currently held the names of 1.7 million on its register but names were still being found and they would also be added to the memorial.