Paddock Wood trees felled to eradicate longhorn beetles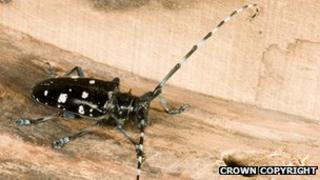 More than 1,300 trees have been felled in Kent after an infestation of an exotic tree-killing beetle.
The Asian longhorn beetles were first spotted in the Paddock Wood area, near Maidstone, in March.
The 80,000 sq m (260,000 sq ft) infestation zone has been extended by about 100m following the discovery an infested tree near the northern edge.
Larvae were discovered in the tree after it had been felled, said the Food and Environment Research Agency (Fera).
The agency said 65 trees had been found to be infested.
All trees of the 20 species known to host the beetle within the infestation zone are being felled.
In a statement, Fera said: "There remains a good chance that the outbreak can be contained and eradicated, although further survey work will be necessary to confirm the position."
The beetles are 20-40mm and a shiny black colour with white markings. They have long black antennae ringed with pale blue or white markings.
In Italy and the US, eradication measures to treat outbreaks have led to the loss of tens of thousands of mature trees.