Margate GP Dr Richard Scott attacks GMC 'faith probe'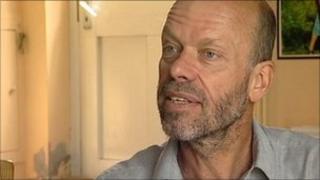 A Kent GP who asked a patient if he had considered faith in Jesus has said he is being denied a proper hearing by the General Medical Council (GMC).
Dr Richard Scott, whose surgery is in Margate, criticised the GMC after it ruled the man who complained could give evidence in private.
The investigation committee said the patient could give evidence over the phone and not attend the hearing.
The GP's lawyers have told the GMC they want a judicial review of the decision.
Medical missionary
On the first day of a planned four-day hearing in Manchester, chairman of the GMC investigation committee Dr Christopher Hanning said the decision had been made after considering the patient's physical and mental condition.
Dr Scott said: "There are thousands of doctors across the land who hold one-to-one consultations with patients every day.
"As professionals, it is right that there are proper procedures in place for complaints to be made and heard, but for any professional not to be given the opportunity to cross-examine a complainant face-to-face and for the case to be tried without such evidence would be plainly wrong."
Dr Scott added: "Without seeing a person's body-language or demeanour whilst giving evidence and their being cross-examined, no panel or jury can tell whether they are telling the truth, let alone be assured of the identity of the person claiming to be the complainant."
'Unlawful, secret justice'
The hearing, if it goes against Dr Scott, could result in a formal warning to the GP.
Dr Scott's barrister Paul Diamond also told the committee the decision to hear the patient, known as Patient A, in private and on the telephone was "unlawful, secret justice".
The GMC has already heard that Dr Scott, who has worked as a medical missionary in Kenya and Africa, spoke about religion to the 24-year-old man at the end of a consultation at the Bethesda Medical Centre in August 2010.
GMC lawyers have said the GP "crossed the line" in discussing his own personal religious beliefs with a vulnerable patient, but Dr Scott has accused the GMC of having an "anti-Christian bias".
The GMC previously heard the man was left "very upset" and felt Dr Scott had "belittled" his own faith. The patient's religious affiliation has not been made public.
The case was adjourned.