SS Richard Montgomery wreck 'bomb risk' to estuary airport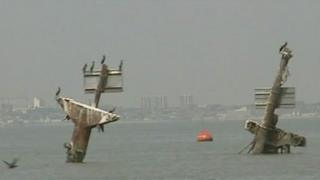 The Liberal Democrats are calling for plans for a Thames Estuary airport to be scrapped following a report into a shipwreck full of explosives off Kent.
The American cargo ship SS Richard Montgomery sank off Sheerness in 1944, containing 1,400 tonnes of explosives.
Lib Dem Julian Huppert said without a "plan to deal with this mess there's no way" the plans will get off the ground.
Engineers found it would not stop construction, a spokesman for the Mayor of London said.
'Significant safety risk'
Mr Huppert said: "This report shows the ship's slow deterioration is continuing with the lethal cargo still on board. This must surely put an end to the bonkers idea of building an airport in the Thames Estuary.
"Just last month the Royal Navy had to destroy a wartime mine found in the Thames Estuary because of the 'significant risk to public safety'.
"If this cargo ship was disrupted by construction the explosion would be 2,000 times larger, it would blow out every window in Sheerness, and create a 16ft wave just outside the capital.
"The last time we tried to move a similar wreck it exploded."
The Maritime and Coastguard Agency (MCA) said the results of a 2010 survey showed the wreck of the SS Richard Montgomery, which lies 1.2 miles (2km) off the coast, remained in a "similar condition to that found in 2009".
'Not prevent construction'
It reported: "The majority of the wreck's structure appears to be stable. Little sign of deterioration since 2009 was evident and only small changes were noted in the wreck's structure and the surrounding seabed."
A spokesperson for the Mayor of London said: "The mayor believes the Thames Estuary to the east of the capital is the most logical location to build the type of four runway hub airport our economy so desperately requires.
"Clearly the wreck of the SS Montgomery would need to be considered however some of Britain's finest engineers have already closely studied the area and concluded it would not prevent construction of an airport."
Following a structural survey in 2009, the MCA found that although the hull appeared to be "reasonably stable" a crack in one of the vessel's holds was "of concern".
The section contains 2,000 cases of cluster bombs, nearly 600 500lb bombs and more than 1,000 1,000lb bombs.
The Department for Transport said the survey showed the wreck was stable.
A spokesman added: "In the summer we will consult on an overarching sustainable framework for UK aviation and alongside this we will publish a call for evidence on maintaining effective UK hub airport connectivity.
"The coalition's position regarding Heathrow has not changed."
Previously experts have said if the wreck exploded it would cause a metre-high tidal wave.
The vessel lies in 50ft (15m) of water off the mouth of the River Medway, with its masts visible above the surface.